The St. Finbarr's A. C. Cork City 10 Miler is delighted to be announced as one of the 8 races in the 2023 Peugeot Race Series.
The Peugeot Race Series 2023:
17th March Streets of Portlaoise 5k
6th April Streets of Kilkenny 5k
16th May Bob Heffernan / Mary Hanley 5km (Enfield)
21st May Ashling Murphy Memorial 4 Mile (Tullamore)
17th June Dunshaughlin 10k
1st July Roscommon 10 Mile
16th July Edenderry 10 Mile
20th August Cork City 10 Mile
This year's series sees the continuation of an exciting new team competition with a guaranteed prize pot of €18,000.
Added to a prize fund of €5,000 for the individual competition and €8,000 available for new course record bonuses, this year's Series prize pot totals €31,000.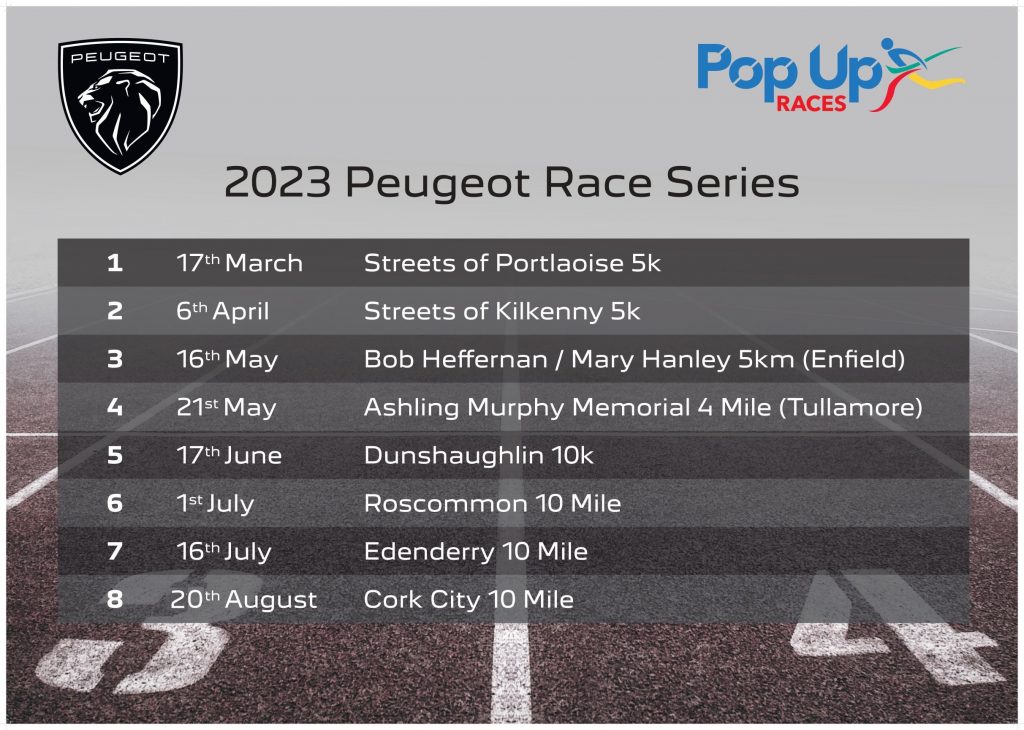 What we know so far:
Elite runners will be invited to each event and will receive complimentary entry.
This year, race organisers have moved from offering access to the car as prize for overall series winner to cash prizes.
There is a guaranteed prize pot of €30,000 on offer. Athletes must compete in four out of eight races, with the lowest combined points scores over those 4 races winning the series, as per previous years.
There is a €1,500 cash prize for the overall male and female series winner with €1,000 for the second placed male and female
There will be €500 course record bonuses on offer for both the male & female course records at every event. (8 x €1,000 in bonuses)
Team – There will be a €17,000 prize pot for team prize, €10,000, €5000, €2000 for top 3 teams.
Teams will consist of 6 participants, 3 male/3 female.
Teams will be scored based on placings in the race, and the team winner from each race will get 10points, 9 for second and so on down to 1 point for 10th place team. The team with the highest points at the end of the series will be overall winner. One team per club will count in scoring
Teams must be from Athletics Ireland affiliated clubs.
ELITE ENTRIES:
We have a limited number of FREE ENTRIES for Elite athletes. Criteria over 5km is sub 15min men / 17min women. If you do not have a recent 5k time, but have comparable 10k, 10 mile times, these will also be considered. All elite enquiries to office@popupraces.ie.
**Only the top 5 in the standings after round 3 will be invited as free entries to Dunshaughlin due to capacity limits at the event.
FAQ'S RE TEAM EVENT:
You do not need to declare teams on a week to week basis. Your first 3 males and females in the results associated with your club will form the team score.
Teams can do as many or as few races as they wish. The winning team in Portlaoise (for example) will get 10 points, 9 for second and so on. Each race will be the same format and the team at the top of the table after 7 races will be the team winner.
Team scores are based on Gender Rank in the race. So if the winning female comes in 20th overall, she contributes 1 point (and not 20) to the overall team score. The best team score achievable at any race is 12 (M 1,2,3 – F 1,2,3)
Peugeot Ireland is proud to announce its partnership with Pop-Up Races for the 2023 racing season. The sponsorship agreement will see Peugeot as the official vehicle partner for the popular race series, including events across Ireland.